We're a Nespresso & Aluminium Capsule Recycling Point!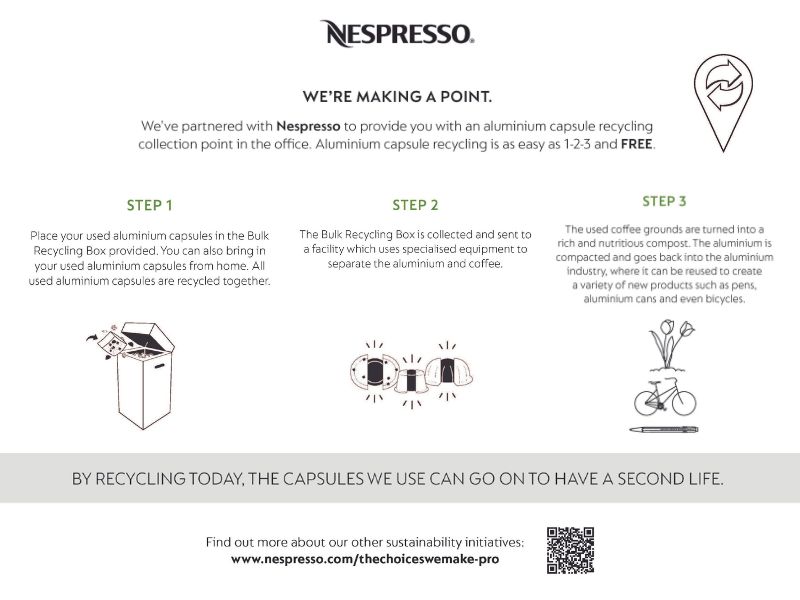 We're making a point
There is potential for a second life with every Nespresso capsule.
Be part of this journey by using Sussex's bulk recycling box to deposit used Nespresso capsules from home alongside any in-home aluminium capsules.
---
How does it work?
Using Nespresso's Bulk Recycling Kit ensures that your Nespresso and in-home aluminium capsules are sent to a local specialist recycling plant. There, the aluminium is separated from the residual coffee, allowing both to go on to live a second life:
Aluminium is compacted and returned to the aluminium industry to produce new products
Coffee grounds are sent to an industrial composting facility to be transformed into compost
Bulk Recycling Box and plastic bags are separated for recycling
Nespresso Professional and in-home aluminium capsules are recycled together
Nespresso capsules are made from aluminium, which is infinitely recyclable. The capsules can be used, recycled and endlessly turned back into new aluminium products.
Find out more about Nespresso's other sustainability initiatives: www.nespresso.com/thechoiceswemake-pro