Let's Animate: Intro to Animation & 3D Modelling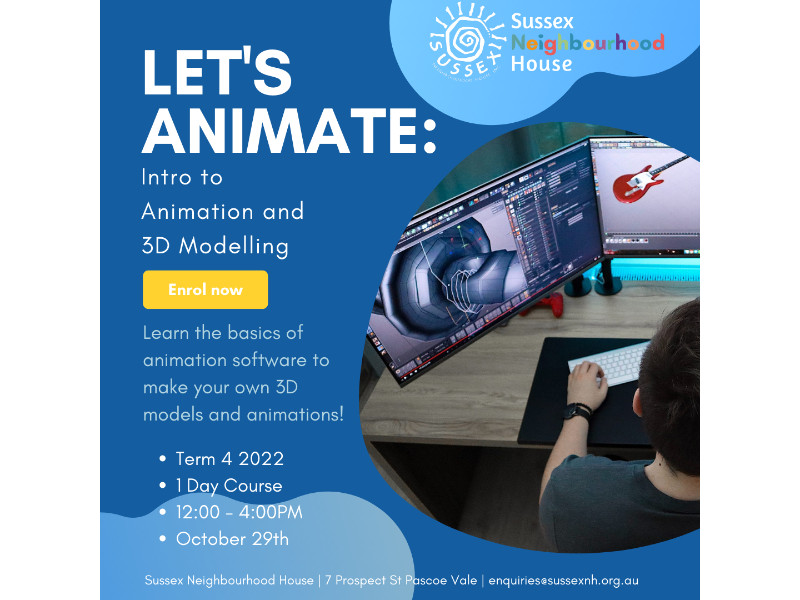 Learn how to use 3D animation software to create your own computer generated graphics in our new 1-day course.
Saturday 29 October, 12PM
Create story-boards and concept art in the pre-production phase, finished image renders and short animation sequences in the principal photography/production phase, and follow up with edited/composited images/videos in the post-production phase.
Learn to use the 3D animation platform 'Blender' to model computer generated graphics for short animated films and videos.
Experiment with different techniques to take full advantage of animation software.
Prepare for courses such as Cert IV in Screen and Media, or Diploma in Animation, Games and Interactivity.
Gain an understanding of the creative process from pre-production through to a finished product.

Activities/Outcomes:
Storyboards
Colour grading
Modelling 3D figures
Bringing characters to life
Texturing digital spaces
Exporting to industry-grade file formats
Shot Lists
Moodboards
Thumbnail Sketches
2D/3D Speed Experiments
4-5 Pages of Folio Work
Concept Art
Proof of Concept
Timeline
Folio Document