Opening Doors to Community Work
category:
courses, whats-on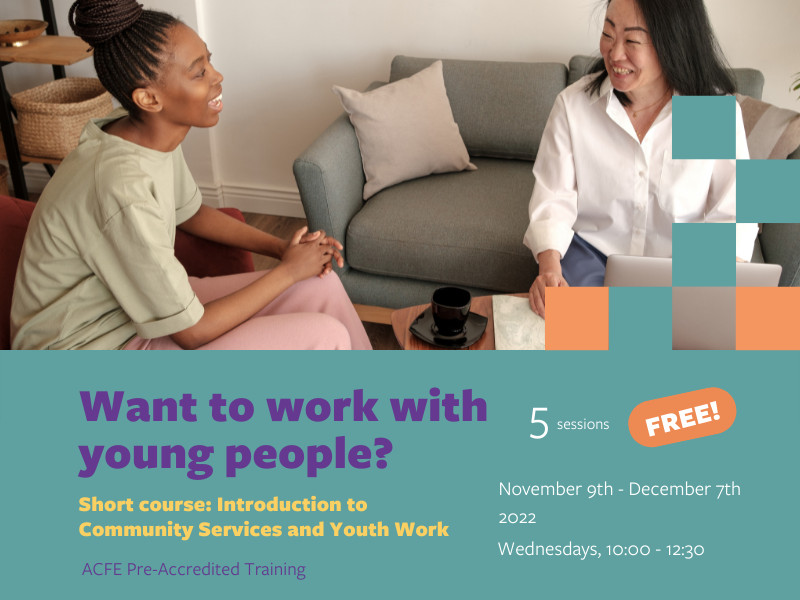 Short course: Introduction to Community Services and Youth Work
Are you passionate about the community and helping others? Considered work or study in the community sector?
This course provides an overview of the skills needed for a career in Community Services and Youth Services, as well Aged Care and Allied Health, Disability, Individual Support, Early Childhood. The class introduces the key concepts and skills expected of workers across these fields, with many transferable skills applicable to many different roles and fields. It's an ideal short course for young people passionate about helping the community and getting involved in community or youth work, but is suitable for all ages and abilities.
Students will learn what a day on the job looks like in this sector, and will gain an understanding of pathways into these jobs via TAFE or otherwise. Students will also practice developing fundamental knowledge and skills, for example:
The concepts of duty of care, neglect, mandatory reporting, and confidentiality
Writing case notes
Identifying hazards in the workplace
How to fill in an incident report
There will be a worksite visit as well as a presentation and Q&A from a guest speaker with experience in the sector. This course is ideal for students with an interest in the community services sector who would like to learn more about pathways and options before committing to further study or training. Completion of the course will also equip you with the necessary knowledge to directly apply for entry-level work in the field.
Pathways include:
Preparing for employment, at entry level in community or career change to move workplaces.
Pathways to TAFE courses in Aged Care, Allied Health, Disability, Individual Support, Early Childhood, or Community Services.
Pathways to internal pre-accredited courses such as career planning and introduction to MS applications (Word, Publisher, Excel & PowerPoint).
Pathways to volunteering for work experience to gain employment.