Let's Shoot: Practical Filmmaking (with RMIT)
category:
courses, whats-on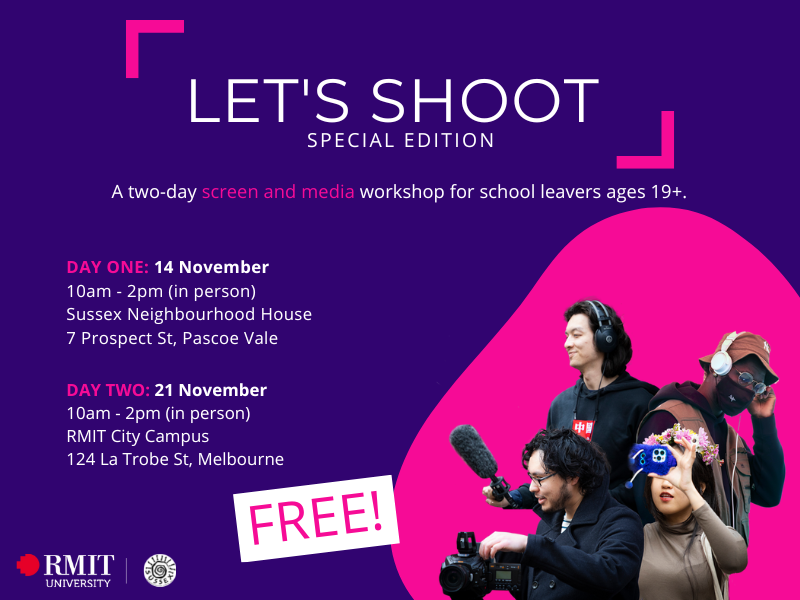 Sussex Neighbourhood House and RMIT University are proud to present "Let's Shoot" - a screen and media workshop, free for school leavers aged 19+
Join us over two days and locations and develop hands-on skills and theory for working in TV and film. This capacity building program is perfect for meeting like-minded people and connecting with industry experts.
Open to all levels of experience, "Let's Shoot" is free for aspiring directors, producers, cinematographers and every TV or filmmaking discipline in between.
DAY ONE: 14 NOVEMBER
At Sussex Neighbourhood House you'll cover filmmaking theory and camerawork techniques for working on a TV or film set. It'll also cover the concepts of pre-production, lighting, sound design and editing considerations.
DAY TWO: 21 NOVEMBER
At RMIT University you'll gain hands-on experience with genuine industry standard cameras, lighting and sound equipment for TV and film. Participants will have the opportunity to film their own program and try stage managing, doing the camera work, controlling lighting, and even being on film themselves.
To register, CLICK HERE.