Let's Shoot @ RMIT 2023
category:
courses, whats-on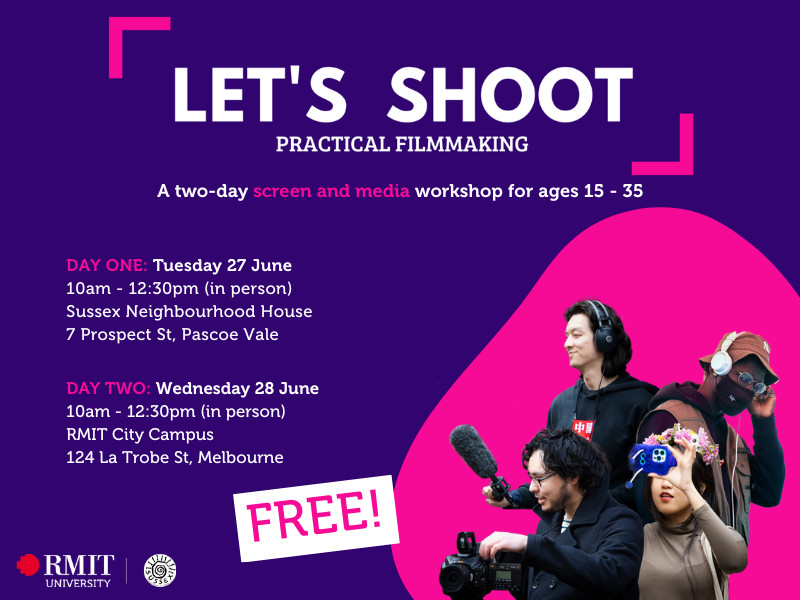 Let's Shoot is back for 2023! Join in for an introduction to practical filmmaking
Open to anyone 15+, this two part workshop will introduce you to filmmaking and production theory onsite at SNH before heading to the RMIT media precinct to put your knowledge into practice, using real cameras, sound and lighting equipment, and exploring 3D animated spaces.
The workshop takes place over two days:
Day One:
Tuesday 27 June  |  10am - 12:30pm
The Sussex Neighbourhood House course will cover filmmaking theory and camerawork techniques for working on a TV or film set. It'll also cover the concepts of pre-production, lighting and sound design considerations. The SNH component will introduce industry-grade editing software that's freely available to use and equip students with the skills to edit footage, colour correct, and do basic visual effects including with Da Vinci and Blender.
Day Two:
Wednesday 28 June  |  10am - 12:30pm
The RMIT component of the course will give a realistic and hands-on practical experience with genuine industry standard cameras, lighting and sound equipment for TV production. Participants will have the opportunity to film their own program and try stage managing, doing the camera work, controlling lighting, and even being on film themselves. Participants will also gain an understanding of digital VFX screen spaces involving animation software and 3D imaging using greenscreen backdrops and Unreal Engine.
Day Two Activities:
10am: Meet at RMIT City Campus – Infront of Building 80 (Swanston Academic Building) at 445 Swanston Street, Melbourne.
10am to 11am: RMIT presentation and campus tour, including green screen TV spaces and production studios.
11am to 12.30pm: Good Food Show Experience. The Good Food Show is a hands-on 'mock' experience of a network television talk show based on food. This will give visitors the ability to cameras as well as backstage equipment to make the show, guided by studio professionals.