Join the Merri-bek Code Club for kids
category:
courses, whats-on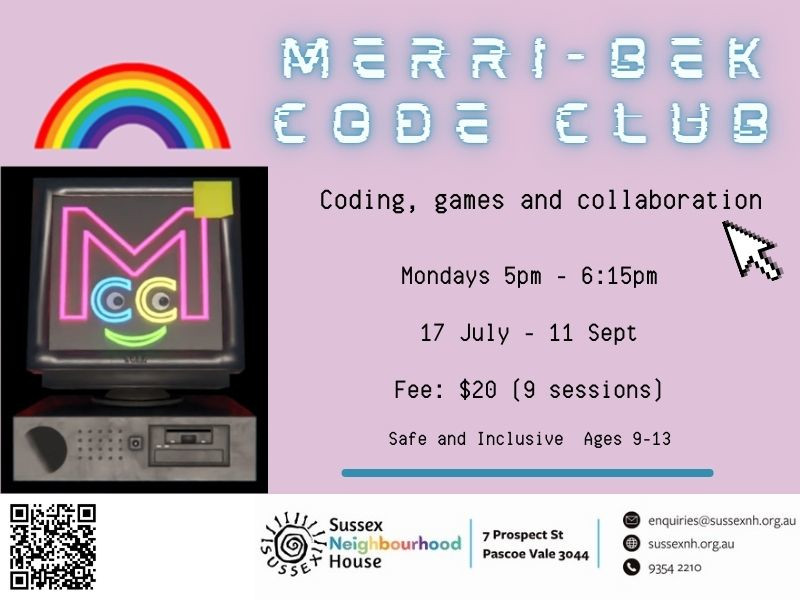 Mondays 5pm - 6:15pm
17 July to 11 September
Fee: $20 for 9 sessions
Safe and inclusive
For ages 9 to 13
If you can follow a recipe, if you like solving problems, learning and teamwork, and if you're creative and playful, you'll probably enjoy coding!
Merri-bek Code Club is a low cost, volunteer-led computer club for kids and their carers to collaborate on coding, animation and computer design projects. We get together to have fun, share ideas and learn from each other. MCC is not run by coding experts, but we have worked on various coding, animation and visual design projects. Our focus is on creativity, fun and learning.
The club is open to kids aged 9 to 13 and their carers. We encourage carers to work with their children on coding projects, but they can simply observe if that's what they'd prefer. Carers should always be available within Sussex Neighbourhood House while their child is attending the club.
We are mostly catered towards beginner to intermediate users but advanced coders are always welcome - we'd love to exchange ideas and learn from each other.
Currently, we're looking at Scratch. Scratch is a graphical rather than text-based programming language, so it's easy to learn. Users can drag and combine code blocks to make a range of projects, including animations, stories, musical instruments and games.
Looking forward to seeing you there and collaborating!