Earth Day celebration event
category:
events, whats-on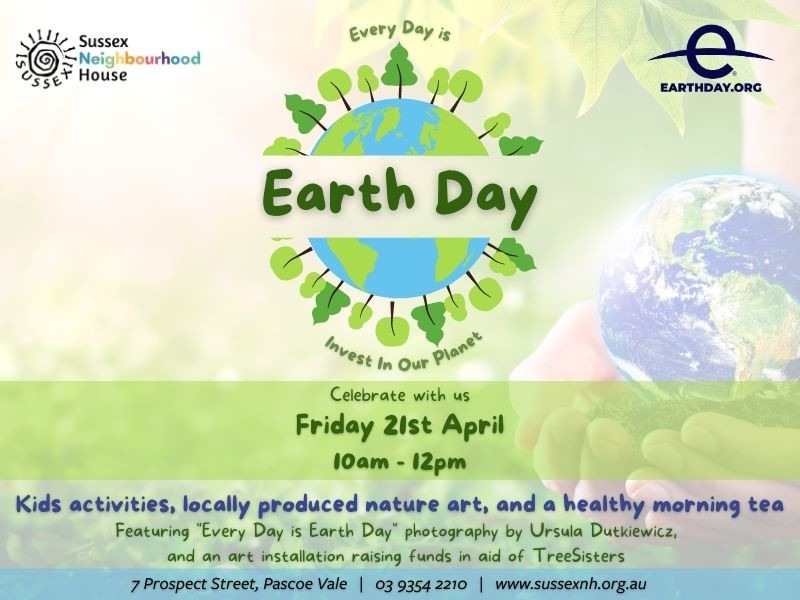 Invest In Our Planet
Join Sussex on Friday 21st of April, 10am to 12pm to celebrate Earth Day 2023.
Held at 7 Prospect Street, Pascoe Vale.
This free event includes activities for young families with a visit from Bunnings Coburg, locally produced nature-inspired art, and a healthy morning tea.
---
This year's Earth Day theme is "Invest In Our Planet" which highlights the importance of dedicating our time, resources, and energy to solving climate change and other environmental issues. Investing in our planet is necessary to protect it and the best way to pave a path towards a prosperous future.
When we Invest In Our Planet together, we are supporting healthy, happy, and wealthy communities worldwide.
---
How can you contribute at Sussex Neighbourhood House?
Throw it Away? No Way!

Come to the Pascoe Vale Repair Café on the first Sunday of every month and bring items back to life. An array of repairers are available to service a wide range of items from woodwork and material to electronics and bikes. No bookings necessary, see you there!

Project Pair Up

Project Pair Up collects mismatching containers and lids from the community and pairs them up so they can be given back or donated.
You can find a collection box at reception.

Pascoe Vale Food Collective 

Low waste, bulk buying for residents of Pascoe Vale and surrounding suburbs. Grocery and cleaning products are sourced in bulk and provided for distribution to members and visitors on a monthly distribution day.
Held on the 2nd Saturday of every month 9:30am to 11:30am - follow on Facebook to stay posted

Makers, Menders & Basketry

A social group dedicated to creating sustainably through recycling, making, mending, and basket weaving. Join our resourceful group and enjoy creative sessions over a cuppa with like-minded locals.

Other collections at reception:

Lids4Kids - turning plastic bottle lids into prosthetics for kids
Bread Tags for Wheelchairs - converting plastic bread tags into wheelchairs